+ DEEP-PUSH CPT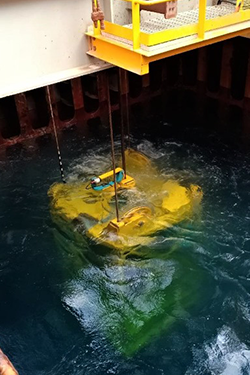 VERSATILE DEEP-PUSH CPT VESSEL
The Geoquip Elena is a DP2 integrated geotechnical survey vessel (IGSV) set up as a specialist deep-push Cone Penetration Testing (CPT) vessel. She is a 4,000-ton IGSV, 91m in length and 19m in breadth and was built at Vard Brattvaag, Norway in 2002.
The Geoquip Elena is fitted with one of Geoquip Marine's 200kN seabed CPT units. She has been acquired to add much-needed extra capacity for deep-push CPT work to satisfy the increasing demand from offshore windfarm developers and other valued markets, especially in Europe and the Eastern Seaboard of the United States. The CPT unit itself is deployed from the vessel's moon pool.
SEABED SYSTEMS
The Geoquip Elena operates Geoquip Marine's 20T deep-push seabed unit which safely and efficiently conducts an array of in situ tests.
When your project requires in situ testing, in either shallow or deep water, our seabed unit can be quickly deployed offering shorter turnaround times of tests and therefore reducing costs. The seabed system is deployed through the vessel's moonpool.
Once operational on the seabed, the CPT unit relays data to an operator on board in real-time where it is then processed. The 200kN system provides a continuous profile of tip resistance, sleeve friction and pore water pressure, which can be used for the derivation of shear strength in cohesive soils and the relative density of non-cohesive soils.
The rig can reliably push to depths of more than 40m and is therefore ideally suited for gathering data for the construction of foundations for offshore windfarms.