Offshore Geotechnical Drilling Rig GMR300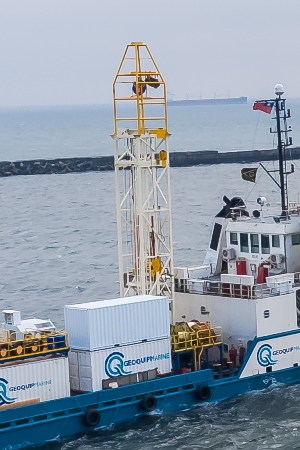 Shallow water geotechnical drilling capabilities
The GMR300 Geoquip Marine designed and built rig is suitable for drilling, coring, sampling and testing in all soil conditions in shallow waters.  The rig operates with 5½" or 6⅝" API drill string and can reach combined water and borehole drilling depths down to 300m.
In addition, a major consideration in its design was to reduce the time and cost to mobilise the rig to logistically challenging locations.  This was achieved by creating a set of simple system components which minimise the requirements for interfacing with the vessels services.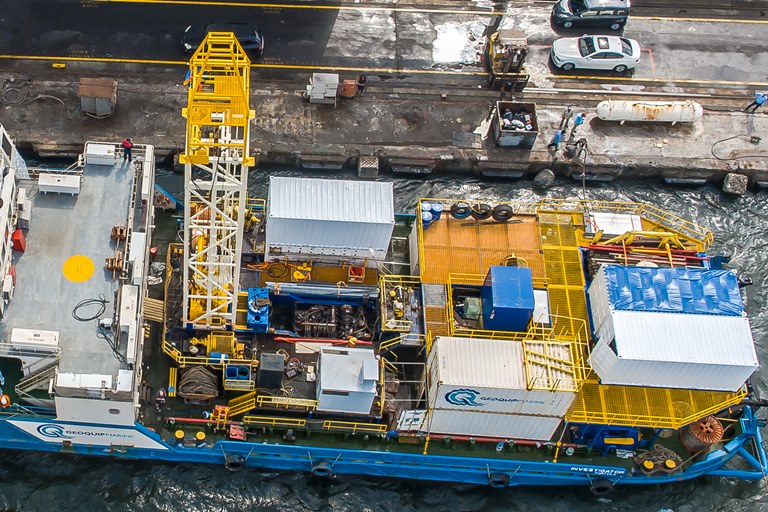 Efficient operation of sampling & testing tools
With the Geoquip Marine designed Bottom Hole Assembly, investigations can run more efficiently thanks to the interchangeability of downhole tools without the need to recover the drill string.  The GMR300 rig is compatible with a wide range of wireline downhole sampling equipment including:
Piezocone Penetration Testing (PCPT) systems.
Push / piston and percussive sampling tools.
Marine wireline core barrel.
P-S suspension logger.