We provide data interpretation services throughout your site investigation, both offshore, with our near real-time engineering analysis, and onshore with our own dedicated research and testing laboratory providing further analysis of data, sample testing and final reporting.
This ensures the site investigation meets your project requirements and also helps you to assess and mitigate risk for your offshore structure design.
NEAR REAL-TIME OFFSHORE
ENGINEERING ANALYSIS
We provide precise offshore data analysis and are flexible with reporting requirements to assist you with an efficient project delivery.
Our highly experienced Geotechnical Engineers are out in the field, providing near real-time analysis of data obtained during the offshore site investigation. Among the data are results from in-situ tests as well as test results of recovered samples analysed from our offshore laboratory.
Such real-time on-site preliminary engineering includes Jack-up spud can penetration analysis with risk evaluation of punch through scenario (rapid leg penetration), and axial pile capacity calculations.
This near real-time engineering analysis ensures that the site investigation meets your foundation requirements.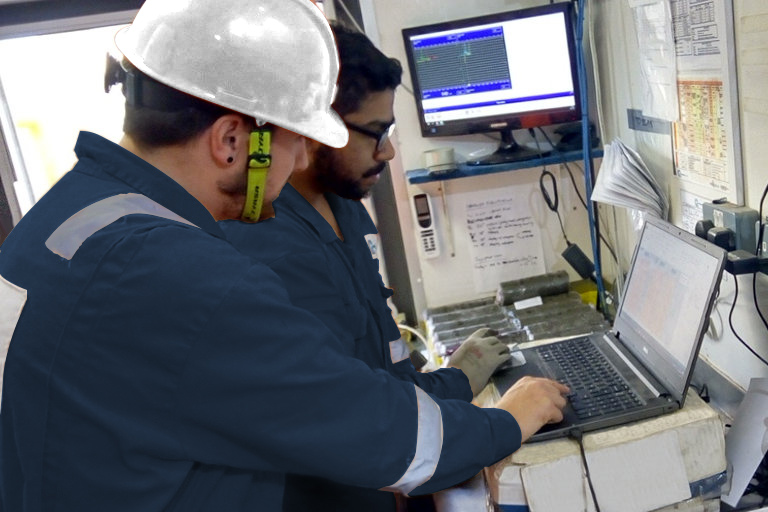 ONSHORE PROCESSING AND FINAL REPORTING
Data obtained offshore, including PCPT data, laboratory data and geophysical data, is further processed for interpretation and final reporting, together with onshore laboratory data.
Where required, recovered samples are sent to our own dedicated onshore laboratory for complementary and special testing, following an extremely rigid chain of custody protocol for sample movement, which is paramount for data integrity.
With the complete geotechnical data set along with our interpretation and final reporting, you can address:
the design of foundations for overwater and subsea structures
the design of anchors
the assessment of burial performance for pipelines and cables
and other engineering and design challenges for marine structures.
We offer further offshore engineering services to support you during your initial design phase of your marine foundation or structure.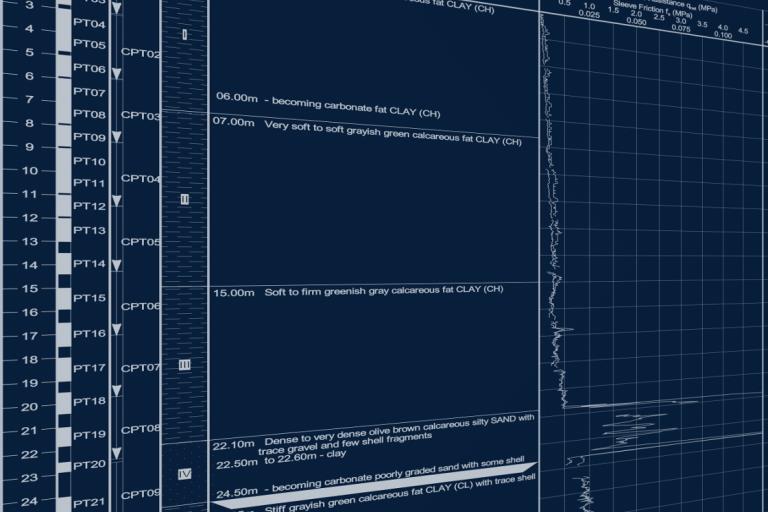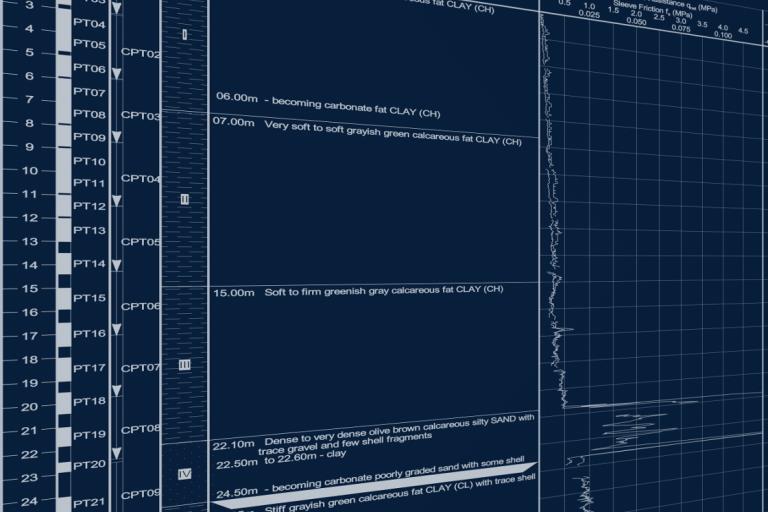 DEDICATED GEOSPATIAL DATA TEAM AND IN-HOUSE SOFTWARE SOLUTION
We often collect large volumes of data from our offshore geotechnical site investigations, including those focused on the development of offshore wind, so we now have a dedicated geospatial data team. These specialists' quality assure and manage all data acquired from a geotechnical site investigation as well as data produced during offshore lab testing and logging, and through advanced onshore-based testing and cyclic results.
To support our handling of geospatial datasets, we have also created an in-house software solution that enables our engineers to understand the unique geology found across large-scale sites, such as interrogating geophysical horizons and interpretations. The capability of this software also extends to:
Ability to plot data in both 2D and 3D images
Group data based on identified stratigraphies (to further understand spatial differences)
Can be outputted into other GIS platforms for extended integration
Our ability to handle large amounts of data is reflected in our recent successful completion of a recent project which involved interpretation of substantial datasets collected from a large-scale wind farm that covered a span of over 400 km².