Jack-up Geotechnical Drilling Rig GMRJ50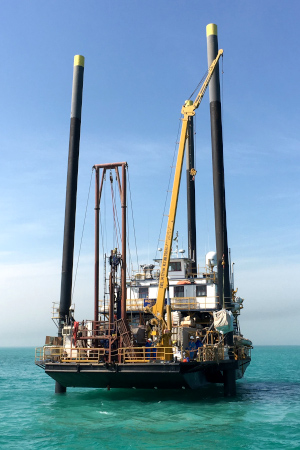 Nearshore geotechnical drilling productivity
The Geoquip Marine, designed and built GMRJ50 drilling rig is a nearshore solution capable of conducting drilling, sampling and testing operations from a jack-up barge. A simultaneous drilling and casing system is operated with this rig, this being far more efficient in terms of time and equipment than traditional rod based drilling systems.
High quality sample recovery
The core barrel and the casing are advanced together, ensuring a high quality sample recovery and a stable borehole. When full, the core barrel is de-latched from the lead length of casing, brought to deck level and the sample extruded horizontally. In softer soils we can utilise an offshore standard wireline operated piston sampler providing high quality undisturbed samples in soft sediments.
Guar gum is used to form the flush medium during drilling operations. It is mixed with seawater, and the resulting 'mud' or flush is then pumped downhole, providing lubrication during drilling, stabilising the borehole and lifting away the cuttings from the base of the hole.