Steve Bartlett, who joined Geoquip Marine earlier this year as our new Training and Competence Coordinator, recently visited one of the company's many integrated geotechnical survey vessels, the Geoquip Seehorn, to help oversee new improvements and enhancements to our learning and development for offshore employees.
The visit, which took place earlier this month, enabled Steve to see one of Geoquip Marine's vessels in person, meet the different crews that make up our offshore teams, hear first-hand what our offshore workforce is looking for from their own personal development roadmaps and help build a competency system that helps them meet those goals.
With the support of Dom Perez, the HSE representative onboard the Geoquip Seehorn, Steve had the opportunity to oversee and coach a health and safety inspection, including taking part in one of our many 'toolbox talks' (key safety briefs that include risk assessments and expected outcomes for all tasks conducted onboard a vessel). For Steve, this gave him the benefit of being able to develop health and safety skills in person, for both those giving the talks and those in attendance.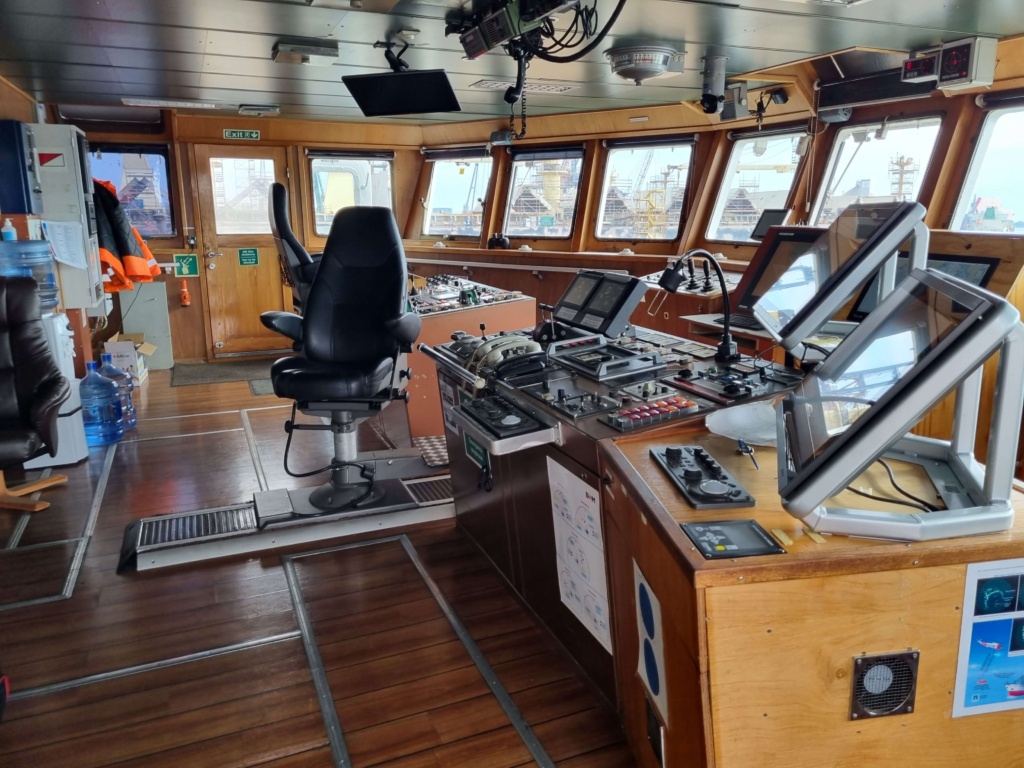 "For me, it's all about fostering and nurturing the same positive culture across all our offshore operations, and in our work we do onshore," says Steve on the importance of standardising the view of health and safety across the company.
"Regardless of where an employee might be working, or what role they are responsible for, helping them develop consistent behaviours ensures everything we do from drill rig safety precautions right through to mental health awareness are treated with the same level of importance and respect."
He adds: "Being there on the vessel in person has made all the difference and hearing directly from the teams onboard the Seehorn has given me such a valuable insight into how these talented individuals work together to make our offshore operations both safe and successful. Ultimately, health and safety remains our number one priority, and we make that happen by speaking honestly and openly to our employees and developing policies that protect every one of them."
Steve's visit to the Geoquip Seehorn will be followed by trips to the other vessels in the Geoquip Marine fleet, where he hopes to share those same insights with other crews. The importance of communication remains a key part of this ethos, engaging with and respecting the input of all employees regardless of skill level, background or experience. "We're lucky enough to have a very diverse group of people working across our onshore and offshore operations," comments Steve. "So, it was a pleasure to see everyone having the opportunity to be heard on deck."
"Steve's visit to the Seehorn was great as we got to know him a little better and learn more about his plan regarding safety training and development," adds Dom Perez. "I really appreciated his support, including setting up my online training and joining myself, Jeremy O'Brien (Head of Operations) and the rest of the crew to discuss the importance of completing their training matrix compliance. Likewise, the explanation of TBT procedures and their importance really helped get everyone on the same page."
For Steve, and indeed the rest of his team, Geoquip Marine's evolving approach to in-house education isn't just about training and compliance, but about embracing the positive change of learning and development. With more and more enhancements being made to these development opportunities across the company – including the recent release of a series of mental health toolkits to support staff affected by the pressures of the global pandemic as well as a new leadership in safety course for those wanting to make a positive impact as leaders – it's clear we want our employees to feel truly prepared and fully trained.
To learn more about the HSE policies of Geoquip Marine, including its 10 STAR Life Saving Rules for offshore operations, please visit our Safety & QHSE page.
If you would like to learn more about our offshore geotechnical site investigations and how we can support your upcoming projects, please contact one of our experts today.